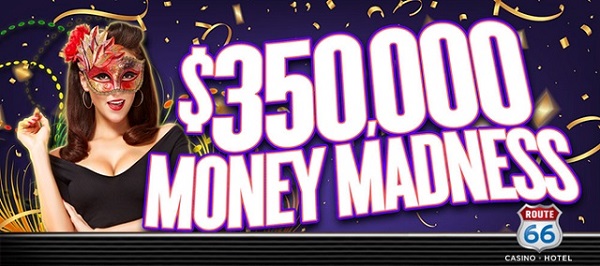 Unmask your share of cash & prizes!
Route 66 Casino guests can experience the thrill and merriment of Mardi Gras this March! The first four Saturdays of the month, five contestants will be selected every hour from 5pm – 9pm to unmask their share of cash and free play. Make sure to use your Turbo Rewards card to play your favorite slot or table games, only 10 points earns you an entry!

What you need to know:
$350,000 Money Madness Drawing Dates: Saturdays, March 2, 9, 16 & 23
Drawing Times: 5pm – 9pm
Earn extra entries on Tuesdays:
4X Entries: March 5
8X Entries: March 12
10X Entries: March 19
Mardi Gras FYI:
• "Fat Tuesday" in French means Mardi Gras.
• Carnival is not interchangeable with "Mardi Gras." Carnival refers to the whole period of time leading up to Fat Tuesday
• A Krewe is a Carnival organization made up of members who plan and carry out the various themed parades and balls.
• Purple, green & gold are the "official" colors of Mardi Gras, and you'll see them everywhere. According to Carnival historians, purple represents justice, green, faith, and gold, power.