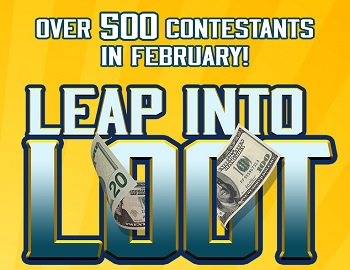 We invite you to Leap Into Loot this February!
Thursdays: 3pm – 9pm
Saturdays: 2 pm – 10pm
8 contestants hourly!
This February, Route 66 Casino Hotel is thrilled to offer casino guests a chance to participate in the Leap Into Loot Slot Tournament promotion! We'll have 500 contestants throughout the entire month.
Earning entries is easy! Simply use your Turbo Rewards card to play Albuquerque's favorite slot games and receive 1 point/entry. And new for table games players this month, 30 minutes of tracked table games play = 1,000 entries!
Thursdays:
Top 3 winners receive cash & prizes and an invitation to the following Saturday's Grand Prize Round where $5,000 cash will be awarded!
Every participant wins a prize!
Saturdays:
After 10 p.m., Top 5 point earners will play with the Top 3 contestants from the previous Thursday in a final Grand Prize Slot Tournament for their chance to win $5,000.00!

Plus, multiply your chances of winning with Tuesday entry multipliers!
February 4: 2X entries
February 11: 4X entries
February 18: 6X entries
February 25: 8X entries
Leap Day Drawing Grand Prize Final Round
Saturday, February 29th
After 10 :30 p.m.
All the winners from previous Saturdays and a few lucky last chance winners will the opportunity to participate in the Grand Prize Final Round for their chance to win $20,000.00 cash!