Dance through the decades on your way to winning every Saturday in June with our $250,000 Music of the Decades casino promotion!
How can you win?
Earning entries is easy! Use your Turbo Rewards club card to play your favorite casino slot and table games from May 29 – June 25, 2022.
• One point on slot machines = 1 entry.
• 30 minutes of tracked table play = 1,000 entries.
• 100X bonus entries for all players on Friday, June 17, 2022.
Must opt in at kiosk.
When can you win?
Saturdays in June
Hourly from 2 PM – 9 PM

Eight contestants will be selected hourly to play music of the 60's, 70's, 80's and 90's. Win up to $25,000 in cash!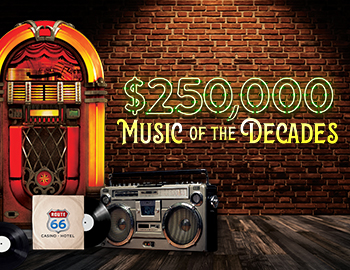 See the Route 66 Casino Player's Club for additional details.