Route 66 Casino Mobile App
Get Your Kicks
on your phone!
With the new and improved Route 66 Casino mobile app, you can safely Get Your Kicks on your next visit! New mobile features will give you peace of mind and maximum convenience.
Download the Mobile App Today
Downloading the app is easy! The Route 66 Casino Hotel mobile app is available in both the Apple and Google Play stores. To find it, all you need to do is to search the term "Route 66 Casino Hotel". The app is free to download.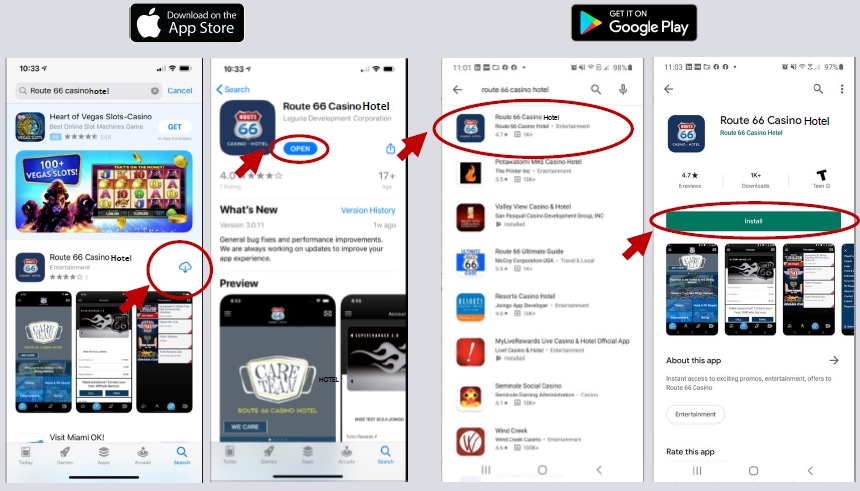 Pro Tips:
Once you download the app, we suggest adding it to your homescreen.
To receive secure viewing access to your Turbo Rewards offers, point and reward balances, you will need to login to your Turbo Rewards account. The 4-digit PIN is the same one you use on the kiosk.
Features to Help You Plan and Play

View Your Monthly Offers
Morning, noon or night, with the mobile app you have access to view your offers. Lose your mail piece or email? No worries, your offers will now be convieniently available on your phone.

Access your Points and Rewards Balances
For your safety, you no longer need to visit the kiosk to view your points balance, rewards balance or to check-in to drawings. Have piece of mind, all this is available on your very own phone.

Contact Us
Contacting Route 66 Casino Hotel is easier than ever. Need to speak to your casino host? You are just a tap away with the mobile app! Click and connect to your designated host.

Join Restaurant Waiting Lists
Browse restaurant menus and add yourself to the wait list for dining at Stadium66 Sports Bar, Thunder Road Steakhouse and Cantina or Johnny Rockets. Your meal times at your convenience.