When:
December 14, 2019 @ 8:00 pm – 9:30 pm
2019-12-14T20:00:00-07:00
2019-12-14T21:30:00-07:00
Where:
Route 66 Casino's Legends Theater
I-40
Exit 140

Big Head Todd and the Monsters perform live in Albuquerque this December.
Route 66 Casino Hotel presents Big Head Todd and the Monsters!

Saturday, December 14, 2019 / 8pm
Ticket Prices: $28 – $59
Route 66 Casino Hotel is pleased to announce that rock band Big Head Todd and the Monsters, best known for hits like "Broken Hearted Savior," "Bittersweet," and "Circle" from their platinum-selling 1993 album "Sister Sweetly," will bring their Winter Tour to Legends Theater in Albuquerque, New Mexico on Saturday, December 14th at 8 p.m.
Big Head Todd and the Monsters are not that big on anniversaries, so there won't be any big hoopla over the fact that the band is officially crossing the three-decade mark this year. Thirty years would seem like something to commemorate, especially with the same core lineup, an achievement few other name-brand bands can boast of. Yet right now they're less about celebrating stability than volatility, in the form of their eleventh studio album, New World Arisin', which makes good on its forward-facing title with what might be the brashest rock and roll of their career. The old world can't rest on any laurels, and neither will they.
"We're in a real exciting part of our career right now," says co-founder Todd Park Mohr.  "We're a viable band with a great audience and we're able to work at a very high level. It's a career that's getting more and more interesting, rather than less, which is remarkable," he says, chuckling at the unlikelihood of anyone being this cheerfully all-in, this far in. "I mean, 30 years into it, I really feel like: Wow, this is getting fun. I'm learning more about music and about my instrument, and it's just really engaging in every way. We also dovetail well with the times, I think; I feel like we have something to say."
That desire to communicate and connect is very much reflected in a new album that explores a variety of subgenres, from the funky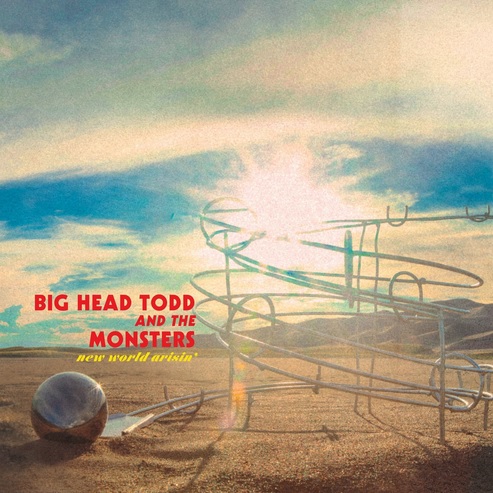 ("Trip") to the unexpectedly punky ("Detonator"), with stops along the way for raging country-rock ("Damaged One"), expansive storytelling in the Van Morrison/early Springsteen mode ("Wipeout Turn"), a Jimi Hendrix cover ("Room Full of Mirrors"), and, in the title track, "New World Arisin'," a Charley Patton-inspired tune that ended up having what Mohr describes as "a heavy metal/gospel feel." He doesn't feel these musical zigzags will give fans musical whiplash. "The fact is, most people, like myself, listen to multiple genres of music, so I don't think people have a problem with variety. I love it."
Their honors extend beyond their home state of Colorado and even home country… into space. In 2005, they released the single "Blue Sky," a tribute to the space program, written at the behest of crew members taking to the heavens aboard the space shuttle Discovery; it was performed years later as a live wake-up call to the astronauts on the shuttle.
What's clear is that Big Head Todd is one multi-headed rock monster, easily traversing the most accessible hooks and the heaviest grooves. It's not surprising that they would appeal to any audience or sub-audience that values durability over flavors of the moment. But Mohr has to laugh when he thinks about how little the possibility of long-term perseverance was on the members' minds 30 years ago.
"When you form, I think your goal is to make it through the party on Saturday night," he points out. "In art, longevity isn't the goal. It's a happy accident if it happens, and I think ours was one of those convenient accidents that led to a happy marriage. But we happen to get along really well and love being with each other and playing music for a living." Simple as it may sound, that's a profound recipe for endurance in both the old world and the new.
Concert tickets for Big Head Todd and The Monsters are now on sale!  Show tickets can be purchased online at rt66casino.com, holdmyticket.com or at the Route 66 Player's Club Box Office.
This will be an all-ages show.