When:
April 5, 2019 @ 8:00 pm – 9:30 pm
2019-04-05T20:00:00-06:00
2019-04-05T21:30:00-06:00
Where:
Route 66 Casino's Legends Theater
I-40
Exit 140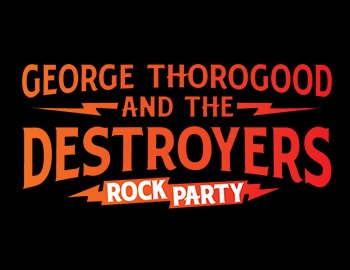 George Thorogood and The Destroyers GOOD TO BE BAD TOUR
Friday, April 5, 2019
Ticket Prices: $28.00, $35.00, $49.00 & $59.00 
George Thorogood and The Destroyers will bring their "Good To Be Bad Tour" to Albuquerque, NM on Friday, April 5, 2019, at 8 p.m. inside Route 66 Casino's Legends Theater!
Since 1975, they've sold over 15 million albums, built a classic catalog of hits, and played more than 8,000 ferocious live shows. They broke records with their 50 Dates/50 States tour, delivered landmark performances at Live Aid and on SNL, and became mainstays of radio, MTV and stages worldwide for more than two generations. Through it all, they've remained one of the most consistent – and consistently passionate – progenitors of blues-based rock in pop culture history.
For the past 45 years, it's been very good to be George Thorogood & The Destroyers. And in 2019, their Good To Be Bad Tour: 45 Years Of Rock will prove why like never before. "If you're content, you may as well be dead." George laughs with his familiar rasp. "I think everyone has thoughts about retiring, but the phone keeps ringing. You want me and The Destroyers to come to your town, set up our gear, wear some badass clothes and play 'Who Do You Love?' End of conversation. Let's rock!"
For Thorogood and his longtime band – Jeff Simon (drums, percussion), Bill Blough (bass guitar), Jim Suhler (rhythm guitar) and Buddy Leach (saxophone) – the power to rock audiences has been both battle cry and creed since forming in 1974. "It wasn't about the amount of people we drew, but rather the impression we made," George remembers. "I asked myself, 'Are we reaching them? Do they want more?' And we knew from the very first set that we had something special."
It's on stage that George & The Destroyers flip the switch nightly, delivering what The Toledo Blade calls a "gut-bustin', guitar-wailin', face-meltin', fiery-tempoed, take-noprisoners, good old-fashioned lunch-bucket rock & roll show" that includes their signature hits "Get A Haircut", "I Drink Alone", "One Bourbon, One Scotch, One Beer", "Move It On Over", "Who Do You Love" and the definitive badass anthem "Bad To The Bone", along with several surprises. "It's been a constant evolution to make the show all killer, no filler," explains 43 year Destroyers' bassist Bill Blough. "Something still inherently clicks the second we step on stage. We feel the audience's energy and the show just explodes."
But after 45 years of rock – and no signs of stopping – can Thorogood point to what continues to make it all matter? "My highlight is every night when I walk on that stage and play our hits for those happy people," he says. "At the end of the show, the audience is smiling, I don't see any police and everyone got their money's worth."
More importantly, is it still good to be bad? George Thorogood instantly flashes that huge grin. "You bet it is," he says. "We'll always be the baddest band in the land. Expect our best on this tour, because that's what you're gonna get."
Tickets can be purchased on your next visit to the Route 66 Casino Player's Club or online , click the ticket link at the top of this page.
Purchase your tickets to this all-ages concert today!