Stadium66 Sports Bar is now open!
Your place for beer, bites and bets!
Elevate your fan experience at New Mexico's Premier Sports Bar! With a multi-million dollar sound system and over 70 HD TV screens, you'll feel like you're right in the middle of all action of your favorite sports!
Enjoy our top-notch menu  full of crowd favorites that always goes for the extra point! Plus, enjoy a wide selection of Albuquerque craft brews.
The Book – your place for full service sports betting. Watch your team. Bet your team!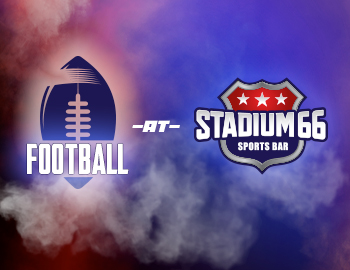 Football at Stadium66
Your hub for all the action!
SUNDAYS:  Win $100 in Free Play drawings all day!
MONDAYS: $100 Free Play drawings during football games.
THURSDAYS: Win rare, autographed sports collectibles!*
SATURDAYS: Hot Seat Drawings start at 2 PM.
*$25 minimum bet at The Book
Hours of Operation:
Open 7 days a week!
Restaurant
7 AM – 10 PM
Bar
11 AM – 12 AM
We Care. View our safety protocols.
The safety of our guests and team members continues to be our highest priority and our property is officially NM Safe Certified. This certification assures you that we have been trained in the COVID-Safe Practices that have been issued by the State of New Mexico to keep you and your family safe.
In addition, we continue to be a leader in safe sanitation practices with all team members certified in safe food handling.
Restaurant will operate at 25% capacity.
Tables spaced at a minimum of 6 feet apart
Staff will wear face coverings at all times.
Mandatory face covering for all guests while moving about the venue
Masks can only be removed when eating or drinking while sitting at a table
No more than 5 guests per table
No bar-counter service
One-time use menus
All staff will pass a temperature check and complete a health survey before each shift.
Hand sanitizer stations will be available upon entry and exit.
A dedicated team member will clean and sanitize common areas regularly.
All tables and chairs will be cleaned and sanitized after every use.
Read more HERE.