When:
April 20, 2019 @ 5:30 pm – 9:30 pm
2019-04-20T17:30:00-06:00
2019-04-20T21:30:00-06:00
Where:
Route 66 Casino's Legends Theater
I-40
Exit 140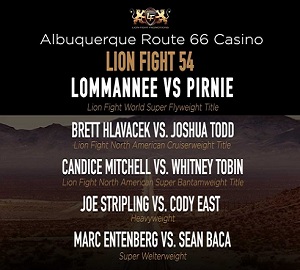 Muay Thai Lion Fight 54

Ticket Prices: $35.00, $55.00, $95.00
Saturday, April 20, 2019 / 5:30 pm
Route 66 Casino and Lion Fight Promotions present Lion Fight 54 in Albuquerque's Legends Theater.
Main Card
Main Event: 5 Rds for Lion Fight World Super Flyweight Title
(113 lbs.): Amy Pirnie (21-3-1) vs. Sandra Godvik (9-1)
Co-main Event 5 Rds for Lion Fight North American Cruiserweight Title
(185 lbs.): Brett Hlavacek (18-5) vs. Ardany Mora (4-1)
5 Rds for Lion Fight North American Super Bantamweight Title
(120 lbs.): Candice Mitchell (12-1) vs. Whitney Tobin (32-13)
5 Rds @ Heavyweight (265 lbs. limit): Joe Stripling (4-0) vs. Cody East (1-0)
5 Rds @ Super Welterweight (150 lbs.): Marc Entenberg (2-1) vs. Sean Baca (0-0)
5 Rds @ Lightweight (135 lbs.): John Seagle (0-0) vs. Gene Perez (0-0)
Amateur
Super Flyweight Title (115 lbs.): Nate Cullison vs. Quinton DeLeon
Middleweight (155 lbs.): Swagath Pillai vs. Samuel Martin
Welterweight (145 lbs.): Andre Mtichell vs. Matthew Cordona
Light Heavyweight (170 lbs.): Sterling Peak vs. Bobby Boden
Featherweight (125 lbs.): Derrick Morale vs. Jonathon Trujillo
Welterweight (140 lbs.): Moses Fletcher vs. Thomas Horton
Crusierweight (185 lbs.): Cameron Wesley vs. Shawn Alexander
Fight card subject to change.
About Lion Fight Promotions:
Founded in 2010 by owner and Chief Executive Officer Scott Kent, Lion Fight is the most active promoter of Muay Thai events and stands as the largest standup combat sports organization in North America.  Lion Fight is dedicated to growing Muay Thai in America and to presenting world-class events stacked with the best fighters in the sport.
Muay Thai has a rich culture and long history in which many traditions have been incorporated into as part of the art and fighting rituals.