When:
September 13, 2019 @ 8:00 pm – 9:30 pm
2019-09-13T20:00:00-06:00
2019-09-13T21:30:00-06:00
Where:
Route 66 Casino's Legends Theater
I-40
Exit 140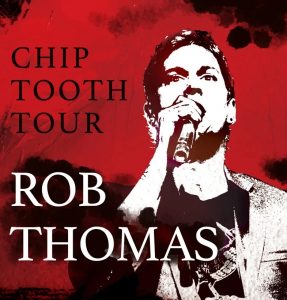 Rob Thomas Chip Tooth Tour
Friday, September 13, 2019 / 8pm
Ticket Prices: $50, $75, $90, $120

Route 66 Casino Hotel presents Rob Thomas: Chip Tooth Tour!
Life, love, and music eventually arrive full circle. We reach the place where we began not only wiser, but with more wonder for the bearing of the past on the future. Three-time GRAMMY® award winner Rob Thomas progresses by recognizing his roots. In fact, the singer, songwriter, multi-instrumentalist, and Matchbox Twenty co-founder picks up a thread from his formative years and weaves a bold and bright new chapter on his fourth solo offering, Chip Tooth Smile (Emblem/Atlantic Records).
Fittingly, the experience earned from over two decades as one of modern music's preeminent songwriter and front men empowers him to do so.
"I've always been a radio kid," he explains. "I grew up listening to all of this music from the late seventies and early eighties in the car with my mom. I knew every lyric to every song on the air. There's a sensibility to the way I write that's been informed by eighties songwriters, especially. I feel like I grow each year. Hopefully, that trend will continue until I am ready to stop.
He most certainly does on Chip Tooth Smile. In fact, the record represents a confluence of firsts for the New York-based artist. After three tour packed summers, he took the summer of 2018 off and commenced writing for what would become his latest album. Three years removed since 2015's The Great Unknown, he amassed a career high 60 ideas to be whittled down into the next body of work. All along, there would be no choice but to work with longtime friend Butch Walker behind-the-board as producer. It notably marked his first collaboration outside of producers Matt Serletic and Steve Lillywhite, but one he admits to "manifesting."
Throughout his illustrious career, Thomas has consistently made history. He received a rare Diamond Award from the RIAA for Matchbox Twenty's 12-times platinum debut Yourself or Someone Like You. His 2005 platinum solo debut, Something to Be, became "the first album by a male artist from a rock or pop group to debut at #1 on the Billboard Top 200 since the chart debuted." Its follow-up cradlesong cemented him as "the only male artist with multiple #1 hits at Adult 40," while he tied P!nk for "most #1s by a solo artist in the chart's history." Not to mention, he teamed up with Santana for 1999's "Smooth," which not only earned three GRAMMY® Awards, but also held the #1 spot on the Billboard Hot 100 for 12 weeks and spent 58 total weeks on the chart. The song emerged as #1 song in Billboard's Top Hot 100 Rock Songs" chart history and "#2 Hot 100 Song of All-Time". "Smooth" was also declared the all-time #1 song on Billboard's "Adult Pop Songs" radio airplay chart, the #1 song of the Rock Era based on chart performance on Billboard's Hot 100 and recently declared to still hold the spot as the second most successful song of all time by Billboard.
Thomas became the first-ever recipient of the prestigious Songwriters Hall of Fame Hal David Starlight Award created to recognize a composer in the early years of his or her career that has already made a lasting impact. Moreover, he garnered numerous BMI and ASCAP awards and would be crowned "Songwriter of the Year" by both Billboard and BMI. Total record sales for his output exceed 80 million worldwide. Additionally, his commitment to philanthropy remains as staunch as his commitment to music. Among many charitable initiatives, he launched the Sidewalk Angels Foundation which benefits individuals in need throughout major cities.
In the end, Thomas comes full circle and delivers a record both befitting of his reputation and indicative of his future. "I write a lot of songs about the human condition, how people interact with each other, and how we deal with our environments," he leaves off. "I want people to take them and attach them to their lives. I hope they possibly speak to what they're going through, and I'm always thankful they're still listening," he smiles.
This will be an all-ages show. Purchase your tickets today!