When:
August 3, 2019 @ 8:00 pm – 9:30 pm
2019-08-03T20:00:00-06:00
2019-08-03T21:30:00-06:00
Where:
Route 66 Casino's Legends Theater
I-40
Exit 140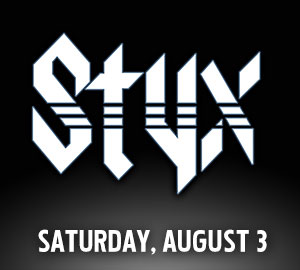 STYX
Ticket Prices: $45.00, $65.00, $77.00, $89.00
Saturday, August 3, 2019 / 8pm
Route 66 Casino presents the Legendary Platinum rockers STYX!
Harmony. Chemistry. Balance. Grit. Dexterity. Determination. Solidarity. Terms that describe a Super Bowl champion? Well, almost. These are words that define the core essence of STYX, the multimegamillion-selling rock band that has forged an indelible legacy both on record and onstage.
The six men comprising STYX have committed to rocking the Paradise together with audiences far and wide by averaging more than 100 shows a year every year since (yes) 1999, and each one of them is committed to making the next show better than the last. Founded in Chicago in 1972, STYX has the unique distinction of being the first band in rock history to have four consecutive certified multimillion-selling albums in a row: 1977's The Grand Illusion, 1978's Pieces of Eight, 1979's Cornerstone, and 1981's Paradise Theatre.
STYX draws from over four decades of barn burning chart hits, joyous singalongs, and hard-driving deep cuts. Like a symphony that builds to a satisfying crescendo, a STYX set covers a wide range of stylistic cornerstones. From the progressively sweeping splendor that is "The Grand Illusion" to the hunker-down fortitude of all that is the "Blue Collar Man," from the majestic spiritual love for a special "Lady" to the poignant rumination on the fleeting nature of fame in "Miss America," from an individual yearning for true connection as a "Man in the Wilderness" to a soul-deep quest to achieve what's at the heart of one's personal vision in "Crystal Ball," from the regal reach-for-the-stars bravado of "Come Sail Away" to the grainy all-in gallop of that rugged "Renegade" who had it made, STYX draws on an unlimited cache of ways to immerse one's mind and body in their signature sound.
Never known for resting on their laurels, STYX have now added a triumphant new chapter to their never-ending story of success: namely, The Mission, the band's sonically sweet 16th studio album and most ambitious, most challenging, and most rewarding release to date.
"The planets truly aligned for The Mission, and I couldn't be prouder," says STYX vocalist/guitarist Tommy Shaw, who co-wrote the album's storyline with longtime collaborator Will Evankovich (Shaw Blades, The Guess Who). Continues Shaw, "It's our boldest, most emblematic album since Pieces of Eight." Adds STYX co-founding guitarist/vocalist James "JY" Young, "This album is an incredible artistic expression that resonates with the best parts of our past, but is intended for modern-day consumption. I'm very excited about it."