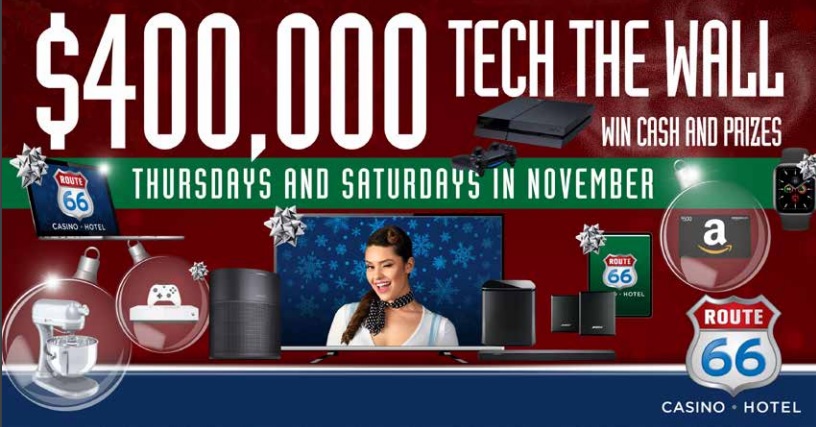 Deck the halls with boughs of tech-nology!
Route 66 Casino invites you to Tech the Wall and win cash and prizes this November!
We have "teched" out our promotional wall with the season's hottest devices! Plus your chance to win up to $10,000 cash!
To win, contestants will select a gift in the window (this gift is yours to keep),  reveal a cash prize amount.  Select a second gift, if the cash prize amounts match, the contestant wins the cash!
Matching gifts will reveal cash prizes in various amounts, and at any time during the month the Route 66 Casino contestant has a chance to win up to $10,000 cash!  Previously revealed prizes stay unless the $10,000 prize is match. You'll want to visit on both drawing days for the biggest advantage.
Earning entries is easy!  Use your Turbo Rewards player's club card to play your favorite slot or table games all month long, only 10 points per entry or 30 minutes or tracked table game play.
When You Can Win: 
Drawings Thursdays AND Saturdays in November!
Thursdays: 3:00 pm – 9:00 pm, three contestants will be selected.
Saturdays: 12:00 pm – 10:00 pm, six contestants will be selected.
Multiply your chances to win with Tuesday's Entry Multipliers:
November 5:     2X Entries
November 12:   4X Entries
November 19:   6X Entries
November 26:  8X Entries
Get Your Kicks at Route 66 Casino this November!
Fa la la la la, la la la la