Route 66 Casino Text and Email Programs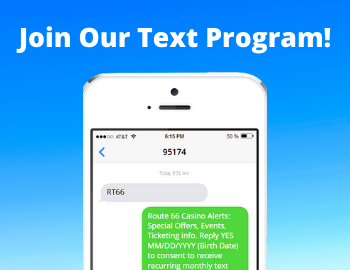 Join the Route 66 Casino text program to stay in the know and find out all the fun ways to Get Your Kicks in 2023!
Signing up is easy!
Text RT66 to 95174
You will need to reply to response with the word YES and your birth date in the DD/MM/YYYY format.
You're in! You'll know you're in when you receive the Welcome message.
You will also want to ensure you are a part of the Route 66 Casino email program. As part of the program, you will receive monthly news plus exclusive Turbo Rewards promotional offers.
Please visit the Route 66 Casino Player's Club to sign up for our e-mail program.