Route 66 Casino Text and Email Programs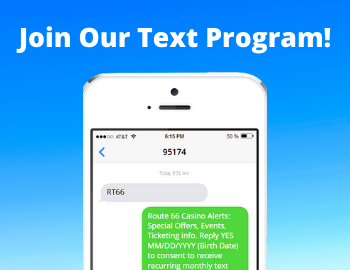 Join the Route 66 Casino text program and receive reopening updates, changes to business hours, plus all the fun ways to Get Your Kicks in 2021.
Signing up is easy!
Text RT66 to 95174
You will need to reply to response with the word YES and your birth date in the DD/MM/YYYY format.
You're in! You'll know you're in when you receive the Welcome message.
You will also want to ensure you are a part of the Route 66 Casino email program. As part of the program, you will receive monthly news plus exclusive Turbo Rewards promotional offers.
Upon the reopening of the casino, you can sign up for email or update your email address by simply swiping your Turbo Rewards Card at any kiosk located on the Route 66 Casino gaming floor.
Please visit the Route 66 Casino Player's Club with any questions.